Independence Squares is excited to announce our 2022 Fly-In!
The 2022 Fly-In will be themed "Scoot Back to the 1920s with that Fascinatin' Rhythm"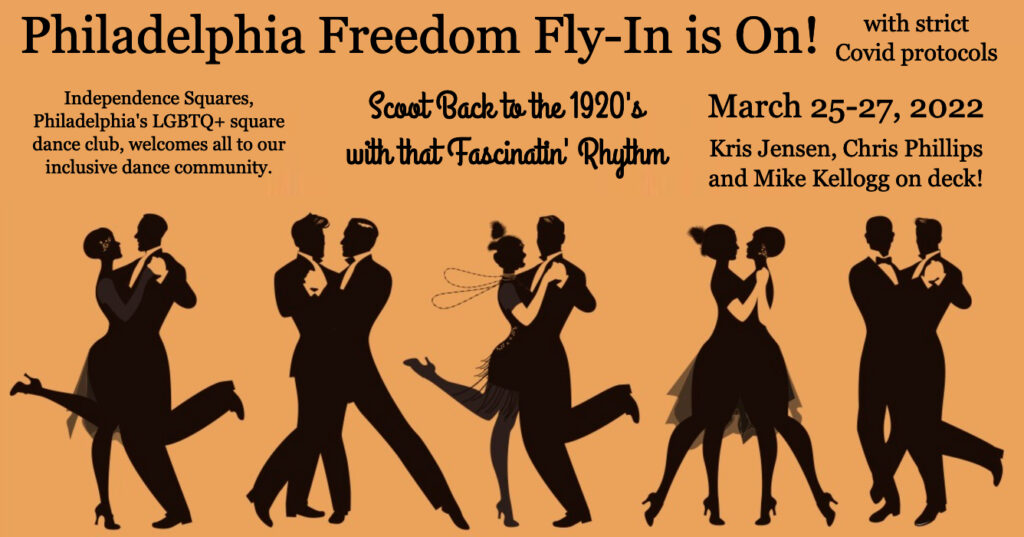 – Date: March 25-27, 2022
– Callers: Mike Kellogg, Chris Phillips and Kris Jensen
– Location: Exton Hotel, Exton, PA
Register at the IAGSDC Website:
https://iagsdc.org/events/event-list
To make your reservation click here. Rooms are just $75/night + tax.
You must review and abide by our COVID safety protocols which can be found here https://independencesquares.org/wp/2021/07/28/return-to-dancing-information/
Registration is $85 through December 15, 2021.
Registration is $100 starting December 16, 2021 through February 25, 2022.
After February 25, 2022, registration is $115.
New Mainstream Dancers' registration is $85 at all times.
Dancing Mainstream Through C2
Dancing on carpet
No Food is included with registration.